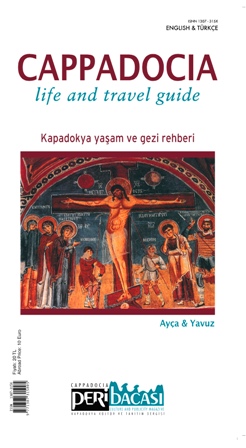 "Cappadocia Life and Travel Guide" is being published in a book format once in a year as a special edition of our magazine both in Turkish and English. The page number of the guide book is changing between 350 and 400 and it is designed as a Cappadocia travel and firm guide. First half of the guide is reserved for a detailed presentation of Cappadocia, thus one may find different and interesting information about more than 200 places to be seen in the region including Nevşehir, Aksaray, Kayseri and Niğde. Second half of the guide is reserved for information about distinguished tourism firms of Cappadocia. More than 450 photos are being used in the book to visually support the texts.
In the presentation part each firm has 2 pages and it is possible to find information about the started and boutique hotels, restaurants, vine producers, show and culture centers, travel agencies of the region, firms organizing outdoor activities such as horse safari, cross golf, mountain bike, trekking and hot air balloon, carpet, ceramic, pottery and onyx handicrafts producers and sellers, as well as antique dealers and organic farming producers.
It seems that Cappadocia Guide, with its particularity and with the need in the region will be used for many years as a publication which not only promotes Cappadocia in tourism fairs both in Turkey and abroad but also serves as a travel guide. Cappadocia Guide, a pioneer in its field, received an accreditation from Ministry of Tourism and Culture in 2008 when it was first published, in order to be distributed in tourism fairs abroad by the Ministry. On the same year, the guide was used as a textbook by Cappadocia Vocational College. Certainly all these developments made us happy and enabled us to keep hope for the future. Participation of 68 distinguished firms of Cappadocia in the guide for 2009 edition is the concrete exposition of the interest in our guide book.
Distribution Network
Cappadocia Life and Travel Guide are distributed both free of charge and paid. The bookstores, in the important tourism places of Turkey, sell our Guide together with the other international publications. Therefore we use the network of the companies which distribute the publications all around Turkey. You can also find our publications in well known magazine and book selling points of Cappadocia region.
Almost half of the printed amount reaches to the relevant ones to be distributed free of charge. Under this frame, our publications are delivered to embassies in Ankara by special courier. Also they are being delivered free of charge to travel agencies working with and in Cappadocia, National Library in Ankara, as well as other public and university libraries, Tourism Deputies in districts of Cappadocia region, regional municipalities and governorships. Moreover our publications are being distributed in EMITT Fair in İstanbul, Turkey and in fairs abroad through Ministry of Tourism and Culture and KAPTİD-Cappadocia Tourist Hotels and Enterprises Association stands.
Technical Details of Our Book
Page Number : changing between 350 and 400
Dimension : 12 x 21.5 cm
Paper : 115 gr glossy paper
Cover : 350 gr glossy paper+ zonal lacquered
Binder : Lace seam and spine warm glue
Package 1 : Vacuumed plastic bags
Sale Price : 20 TL (2009 edition)
Index
1. General Information
2. History of Cappadocia
3. Chronology of Cappadocia
4. Nevşehir
5. Aksaray
6. Kayseri
7. Niğde
8. Elite Firms of Cappadocia
a. Tourism Agencies of Cappadocia
b. Hotels of Cappadocia
c. The Cuisine of Cappadocia
d. Wine Producing in Cappadocia
e. Outdoor Sports in Cappadocia
f. Handcrafts in Cappadocia
g. The Antiquarian of Cappadocia
h. Special Events and Culture Centers in Cappadocia
i. Organic Farming in Cappadocia
9. Firm Lists
10.Index of Places Names