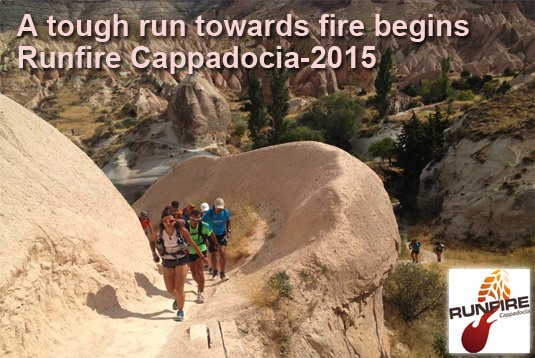 Running through the mystical and enchanting valleys… being surrounded by the immense whiteness of Lake Tuz (Salt Lake)… "Runfire Cappadocia" will absolutely be pushing the limits of sport and nature addicts. It will be held between July 25th-August 2nd 2015, including 6 different categories as to be Ultra Marathon, RFC 20K, Discovery 6G, Discovery 4G, Toughest 1 Day and Corporate Races.
With its 260 km long in total racecourse consisting of 6 stages and international characteristics, "Runfire Cappadocia" is considered as one of the biggest outdoor sport events. The route starts in front of the Uçhisar Town Hall in Nevşehir. Following the Valley of Pigeons (Güvercinlik Vadisi), Damsa Dam, Analipsis Monastery (Yüksek Kilise), Güzelyurt, Ihlara Valley, Mount Hasan and around Lake Tuz before crossing through Çavuşin and the Ürgüp and Göreme valleys, the marathon ends in Uçhisar, where it started.
Runfire Cappadocia Ultra Marathon, the second multi-stage ultra marathon of Turkey after the Lycian Way Ultra Marathon, is an international sport organization and rated among "the 25 Toughest Marathons in the World". The route of Runfire Cappadocia Ultra Marathon which is supported by Ministry of Culture and Tourism of Turkish Republic is prepared by Prof. Dr. Taner Damcı, the race director who has completed many difficult international ultra-marathons himself.
With the support of sport wear and equipment brand Mizuno, the world's 5th biggest company in vehicle tracking Arvento, Wolksvagen Amarok, Nature lovers' choice AndOutdoor, Garmin, the new social media channel of Turkey Scorp, Coca-Cola and Hotel Argos in Cappadocia which has many international awards, Runfire Cappadocia offers an unforgettable experience. Having unique categories as "Ultra Marathon, RFC 20K, Discovery 6G, Discovery 4G, Toughest 1 Day and Corporate Races", makes Runfire Cappadocia suitable for everyone ranging from beginners to professional athletes by offering different distances, conditions and levels of difficulty. Within the fascinating landscapes and atmosphere of Cappadocia ranked among UNESCO's World Heritage List, an approximately 260 km racecourse will be completed in 6 stages and competitors will be sleeping under the stars each night in different locations, in traditional Turkish tents, alone with the nature.
RFC ULTRAMARATHON ( July 25th-August 02nd 2015 ): A great challenge that takes 6 days in 6 stages spanning approximately 260 km of difficult course where the competitors have to make personal strategies, push their physical and mental capacities as well as carrying all their equipment and belongings in their backpacks with them all through the race. Average daily running distance will be between 25-40 km and competitors will bring and carry their own foods with the mandatory equipment listed by the race organizers in their backpacks throughout the race.
RFC 20K (July 25th-July 26th 2015): This category is for the ones who want to experience Runfire Cappadocia in a 20 km long exclusive course, to savor the moment of start with all the competitors together. It truly offers a matchless weekend experience. Race starts in July 26th, Sunday morning, together with the RFC Ultra Marathon and Discovery 6G competitors. RFC 20K start from Güvercinlik Valley and ends at the finish line of 20 km long course, followed by a transfer to the camping area. Duration of the course is 4 hours.
RFC DISCOVERY 6D (July 25th-August 2nd 2015): This is the category for the ones who doesn't feel themselves ready for an ultra-marathon yet, but want to experience this challenge from the start to finish. Competitors will run approximately 15-20 km in each stage and the total distance to be completed is around 120 km. Food is provided by the race organizers.
RFC DISCOVERY 4D (July 28th-August 2nd 2015): This category has been designed for being one with nature, to explore where the ultra-marathon's limits begin and to explore yourself. Discovery 4D competitors will complete 80 km long racecourse in 5 days with a daily average of 15 - 20 km. Food is provided by the race organizers.
RFC TOUGHEST 1 DAY (July 29th-August 1st 2015): A brand new category for those who want to pack this unique and challenging ultra-marathon adventure in Cappadocia into just one stage; here is your single stage of 104 km long! This course is at the same time the long stage for the Ultra Marathon competitors and starts from Şereflikoçhisar, passes through the dry Lake Tuz (Salt Lake) which is unique in the world and ends at Ulukışla. Food is provided by the race organizers.
CORPORATE RACES (July 28th-August 2nd 2015): For the ones who worked whole year shoulder to shoulder, who survived ups and downs together. Now it's time to test the office team play in tough nature. Corporate races are run as teams of 4 competitors. Teams will complete 4 days stage running a daily average of 15 - 20 km. Food is provided by the race organizers.