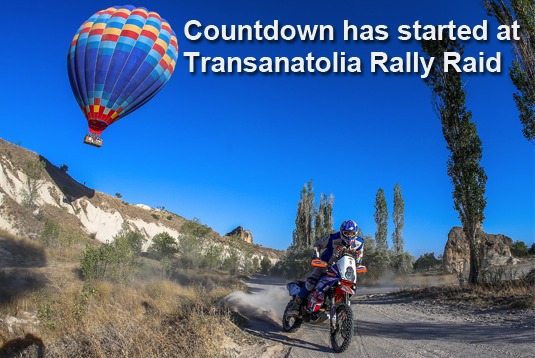 Anatolian peninsula has been the bridge between Asia and Europe from past to present being the homeland of many cultures throughout history. Transanatolia Rally Raid is now in its sixth year, with the last three years organized along beauties of Anatolia, and this year, the plan is to add a whole new dimension with the change of track, advanced technical and security installations and higher interest of international broadcasting organizations and joining of the participants of Dakar, the world's most challenging rally.
6th Transanatolia Rally Raid that will be held from 22 to 29th of August 2015 is the first "rally raid" of Turkey that lasts for 7 days on a track composed of challenging land, mud and wet stages with participation of rally motorbikes, land vehicles, ATVs and buggies.
3170 km 6th Transanatolia Rally Raid starting at Ankara shall run through Cappadocia (Aksaray and Nevşehir), Sivas, Erzincan, Erzurum, Kars, Giresun, Tokat and Yozgat ending back in Ankara.
Preparations are in progress so that local and foreign pilots have an amazing experience in the rally raid with each daily stage covering in average distances of 400 kilometers. Along with international sportsmen like worldwide known Dakar rally participants Laia Sanz, Helder Rodrigues, Olivier Pain, Paolo Ceci, Alessandro Botturi, Serkan Özdemir and Şakir Şenkalaycı that represented our country in Dakar rally are some of the important names in Transanatolia Rally Raid. The objective of the rally in 2015 is to build a bridge of culture and friendship in the region, promoting unspoiled beauties of Turkey and Anatolian culture that is gradually fading out.
Rally Raid
Rally that lasts from 3 to 15 days, at off-road tracks with a distance of 1,500-10,000 kms, run by rally motorbikes, land vehiclesi ATVs and buggies.