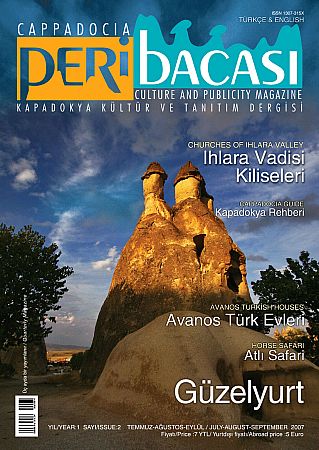 THE CARPET AMONG TURKS
Writer: Yavuz İşçen
July 2007
Carpet weaving is known to be an art which occurred for the first time among old nomadic Turkish tribes of the Central Asia. The improvement of carpet weaving is closely related with the life style of Turks. Today houses took the place of the tents of the old nomadic culture. At those times, carpet was used to be laid not only on the floor but also on the walls of a tent for protection and decorative purposes. The richness of a tent owner was used to be determined by the carpets he had in his tent, because the only furnishing and accessory of the tent were used to be carpets.
One of the characteristics of Turkish carpets is the double knot technique known as 'Turkish knot'. In Anatolia, usually women and young girls weave the carpet so it is impossible not to contribute their thoughts and emotions to the woven carpets. These emotions are mostly secret passions, love, separateness and yearning. As a result of social barriers, emotions transform into symbols and the symbols reflect to carpet as motifs. Because of this, among Turks, carpet is a mirror of the social life and a culture itself.
The oldest carpet of the world is a Turkish carpet
Carpet weaving art has reasons for being mentioned together with Turks for many centuries. The carpet discovered by Russian archaeologist Rudenko, during his excavations between 1947 and 1949 in a burial room in Pazirik located on the side of Altay Mountains, is the oldest carpet of the world. Archaeologists report that this carpet might be dated back to 2th-3th or 3th-5th centuries BC. Pazirik carpet was woven with Turkish double knot and it has a very advanced technique as compared with its era. The art of weaving being transferred to Anatolia by Seljuks in 1000s, is the continuity of the Central Asia tradition. 22 carpets from Anatolian Seljuks are exhibited in Turkish and Islamic Works Museum in İstanbul. Ottoman carpets are classified as early, classical and late period carpets.
English influence on Turkish Carpets
On the second half of 19th century, an English company founded in Anatolia whose name is 'The Oriental Carpet Manufactures Ltd' seized all of the production and trade of the carpets in Turkey, at short notice. After this company was closed in 1929, unfortunately, production of the carpets that smell like the English style carpets, went on in Turkey. To become widespread of this kind of carpets caused traditional lines of Turkish carpets become extinct because the foreigner companies produced carpets completely in a European design with patterns they draw on their own. Today, traditional Turkish carpet art tries to catch its own style again, besides struggling to survive against machine product carpets which have rapidly become widespread and against cheap Chinese carpets which have entered in Turkish market.
Note: This article has been published in Peribacası Cappadocia Culture and Publicity Magazine, July 2007 issue. It is under protection of the copyrights of the magazine. No part of this article may be reproduced or utilized in any form or by electronic, mechanical or other means without prior permission from the owner. www.cappadociaexplorer.com