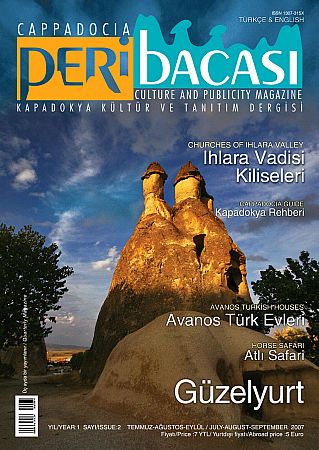 Writer: Yavuz İşçen
July 2007
The history of this small and picturesque district of Aksaray is, like many other parts of Anatolia, full of battles, invasions, concealment and betrayal. The Treaty of Lausanne, signed at the end of the War of Independence, brought yet more suffering to Güzelyurt. The population exchange, designed for the citizens remaining outside the new Turkish borders, was agreed between Greece and Turkey. In 1924 the Turkish people from the Selanik, Manastır, Kozana and Kesriye regions of Greece were relocated to Güzelyurt, while the Greeks from Güzelyurt were moved to nearby Kavala, a village later renamed "Nea Kalvari" in Greece. This population exchange, which might seem simple, caused a deep trauma in those people's lives. The communities which lived in peace and fraternity for years were separated, while their memories, houses, graveyards and hopes were left behind. Today, no-one who witnessed those times may be left alive, however their children remember what they were told as if it all happened yesterday. Many of them still visit Güzelyurt and search for their parent's houses. Thanks to the reciprocal friendship festivals, Güzelyurt is visited by an influx of Greek people and after such a long time the wounds start to heal and friendships begin afresh.
The footprints of first settlements in Güzelyurt
The first inhabitants of Güzelyurt settled here about 8500 years ago, during the Neolithic Era, leading a primitive lifestyle in a settlement on Analipsis Hill, where the Yüksek Kilise (Analipsis Church) is now placed. The same settlement also contains wall paintings dating back to the Hittites. The Yüksek Kilise, located three kilometres southwest of the district center, is a 19th century Greek church. Before the population exchange in 1924 it was used for praying as well as a meeting-place for religious feasts.
From Kalvari to Gelveri, and Gelveri to Güzelyurt
It is known that Güzelyurt was called Karballa during the Roman and Byzantine times. Later, the Greeks changed this name to Kalvari and the Turks called it Gelveri. It is accepted in many historical resources that Güzelyurt, which was a religious center for the Greeks of Cappadocia between 4th and 6th centuries, was one of the most important settlements of the region. Gregorius Teologos, one of the pioneers of Christianity before its acknowledgement by the Roman Empire, was born in Güzelyurt. He was the first person to initiate a monastery life in the region, and his and the Kayseri Bishop Basilus's ideas created a base for the fundamentals of Orthodox religion. In the year 385, the Byzantine Emperor Teodosius built a church in Güzelyurt which he named after Gregorius Teologos. This is the same church that is located at the Aşağı Mahalle of Güzelyurt known as Cami Kilise. Cami Kilise, built with carved stones, has been through several restorations and, after the population exchange in 1924, was transformed into a mosque. Its famous bell tower, whose bells use to be heard from three hours distance, was blocked with bricks and converted to a minaret. During this transformation the frescoes in the church were painted over with whitewash. Today, restoration works are being carried out in order to remove the paint by using special techniques to bring these frescoes to light again.
The Legacy of the Greeks
The Greeks built beautiful stone houses with vaulted and arched ceilings. They are mainly two, sometimes three stories high with roofs made out of Marseille bricks. The buildings construction date and prayers in Greek can often be seen above the doors, which lead to interiors often as stunning and bright as their exteriors. There is a school, built in 1856, dedicated to religious education in Güzelyurt. It was extended in 1913 and after the population exchange was used for various purposes: primary school, district office, gendarme station and cinema. After going through a restoration in 1986, this building now serves as the Karballa Hotel. It is possible to describe Güzelyurt, with its ancient Greek houses, churches, and historical texture, as a great legacy that should be preserved and promoted.
Churches in Güzelyurt
Sivişli Church: Located on a hill opposite Cami Kilise, this church is mainly carved in rock with parts built with carved stones. In old times many doctors use to do charity work here for free, while their patients were accommodated in rooms around the church. The construction date of Sivişli Church, also known as Saint Anargirios Church, is unknown. It is known that the Ottoman Sultan Murat IV gave a donation to the patriarch of the church on the way back from his Baghdad victory expedition, which was used to make some additions to the church. Today, it is believed that the church's fading frescos are from 1877. The dome of the church displays illustrations of Christ Pantocrator and his apostles. After 1924, this church was used as a pottery workshop.
Koç Church: The church derives its name from Hacı Saadet Koç, who once used it as a granary. It is located within the district, on the left side of the road leading to the Monasteries Valley. It is worth seeing for its fresco of an angel and a saint.
Cafarlar Church: Located on the same rock block as the Koç Church, it features interesting frescos. Churches of the
Monasteries Valley: This valley, which starts from the lower side of the district, is about 4 km in length. There are many churches, old settlements, and monk cells here. Just like the Ihlara Valley, this valley is like a canyon surrounded by steep rocks, along the bottom of which runs a small tree-lined stream. Today is also used as a trekking route. We recommend visiting the Kalburlu and Kömürlü Churches of the valley.
Kızıl Church: One of the most attractive stone churches in Cappadocia. It is located on the Niğde road, 6 km from the district, near Sivrihisar Village. It is currently undergoing restoration works.
Underground cities
There are seven underground cities, also called 'underground castles' by some researchers in Güzelyurt. In this issue we would like to introduce two of these.
Cevizli Sokak Underground City: Located within the district borders and dating back to the Byzantine period, this underground city is built along a grid, with many rooms connected via tunnels.
Gaziemir Underground City: Located in the Gaziemir Village on the Derinkuyu road, 20 km from Güzelyurt, this captivating underground city really is worth visiting. The entrance hall, built with stone using a Hittite overlap technique, is unique in the region. There are two churches, large fireplaces, wine barrels, food stores, barns and various living areas in the city.
Note: This article has been published in Peribacası Cappadocia Culture and Publicity Magazine, July 2007 issue. It is under protection of the copyrights of the magazine. No part of this article may be reproduced or utilized in any form or by electronic, mechanical or other means without prior permission from the owner. www.cappadociaexplorer.com