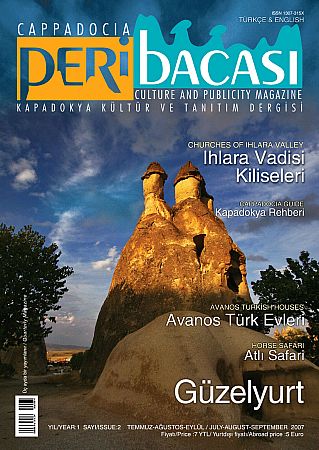 Writer: Yavuz İşçen
July 2007
There are too many places worth of seeing with their natural beauties in Turkey. During holidays, journeys or while we are driving in our car we encounter in such places that we want to stop and feast our eyes. However, sometimes naked eyes are not adequate to catch all of the beauties. Sometimes a binocular or a field telescope brings the things that you can't even imagine, very close to you. At those times all you ought to do is to enjoy this visual fest.
A lot of telescopes and binoculars placed in national parks, natural view patios, bird watching points, natural life monitoring areas, serve visitors in many countries of the world. There are a large number of users of these coin-operated telescopes. To speak honestly I was very surprised when I first saw such a telescope in 'Çatalkaya' view patio at the entrance of Ürgüp, while I was exploring Cappadocia. I forthwith dropped 1 YTL and used it. I was lucky that I caught Erciyes Mountain in a clear sky. I watched its snowy peaks at some length. For a while I walked around in Esbelli Street. Then, I jumped into the valley and walked among fairy chimneys. Everything was really wonderful.
After some research I learned that for the first time in Turkey, Maxgrey company has started this application. Maxgrey, the only distributor of this type imported telescopes and binoculars in Turkey, has placed telescopes at 4 view patios and they are going to place them to 8 more points. The firm, places telescopes upon demand in national parks, bird paradises, and at the points that municipalities and special enterprises offer, also it gives maintenance service. I'm happy that Maxgrey is on the point to import new telescopes to be used for sky watching. Being proper for every type of weather condition such as rain and snow and being coin-operated provides ease-of-use for these telescopes that have high magnifying capacities. Have a good watching!
For further information: www.maxgrey.com
Note: This article has been published in Peribacası Cappadocia Culture and Publicity Magazine, July 2007 issue. It is under protection of the copyrights of the magazine. No part of this article may be reproduced or utilized in any form or by electronic, mechanical or other means without prior permission from the owner. www.cappadociaexplorer.com