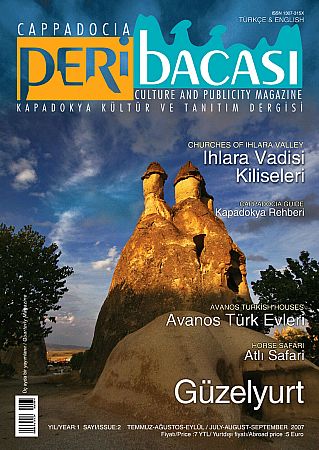 TREKKING IN CAPPADOCIA
Writer: Ayça Olcaytu İşçen
July 2007
No, we didn't hear wrong. Deniz Cüce, from Middle Earth Travel, told that the youngest member was 48 and the oldest member was 74 in Israelite trekking group that we were about to join for trekking in Ihlara Valley. The first thing coming to our mind was we could take many photographs owing to the group moving slowly.
We moved from Göreme at 08:30 am on April 28th 2007. The weather was beautiful and the team was lively. Özgür Tepe, our guide from Middle Earth Travel, was expertly answering the questions asked continually. After a joyful trip, we started to walk down into the valley from Ihlara Town entrance. Valley was formed as a result of cracks and breakdowns of lava erupted from Hasan Mountain, millions of years ago. Abrasion by rain, wind and Melendiz Stream gave the valley its last shape.
It didn't last long to understand that our plan about taking lots of photographs fell to the ground. The eldest member of the group was urgently walking in front of the group, others were easily keeping in step with him and we were hardly following them! Yavuz, persistant to take photos, was coming after the group; Ayşe, our translator and a biologist as well, was trying to examine every living thing as she says "the valley has a rich biodiversity", and Yusuf was accompanying her. We went on walking by watching Melendiz stream running through the valley, and by looking at the cavities and dovecotes on the walls of the valley which has parts reaching about 100 meters height.
Our guide Özgür, cared each member of the group, individually. Also, he told that the valley had been a settlement since old times, and it had been favorite a settlement for missionary monks in Cappadocia region. According to the researches, there are more than a hundred of churches today, and 14 of them can be easily visited.
Meanwhile, the weather deteriorated. We had a break when we reached the famous stairs of the valley that has 382 steps. During the break everybody was talking about valley's fascinating nature. We visited some of the churches through the path, considering the common demand of the group. It didn't last long for me to understand that tailor-made tour was exactly this! Extremely harmonious group members were making new decisions and our guide was immediately providing alternatives.
After our delicious lunch near Melendiz stream in Belisırma, it started raining. Thanks to tailor-made concept the group decided not to walk the 5 km distance left. We went straight ahead to Selime Cathedral and afterwards Ağzıkarahan. The group, wondering how a village life is, had a chance to see it and became guests of a village house, thanks to Özgür. While we were sipping Turkish coffee at our last stop, Osmanlı Cafe, in Nevşehir, Ephraim Fortis from Israelite group told his satisfaction about Özgür, and he didn't omit to get a promise from us to announce this in our magazine. We thank Özgür Tepe for his attention during the activity, and Middle Earth Travel for involving us in this organization.
Tailor-made outdoor tours in Cappadocia
Middle Earth Travel, was founded by Atıl Ulaş Cüce and Kerem Karaerkek in 2001 in Göreme. Both of them are mountain climbers and they chose Göreme because it's near to nature and natural areas. They aimed to organize original tours in their own style. Cüce and Karaerkek, worked with Kate Clow in Lycian Way (509 km) and St. Paul Way (500 km) projects. Both of them are long trekking routes of Turkey and among the best trekking routes of the world, because of their natural and historical richness.
Middle Earth Travel organizes tailor-made outdoor tours in Cappadocia. Core team consists of 8 people and all of them are professionals in their fields. They work with well equipped guides who experienced toured mountains before. Mostly, friend groups and mountain climbing clubs are interested, besides %90 of the customers are from other countries. When there is demand they are also organizing single tours. In July and August they organize technical climbing tours in Aladağlar, Hasan, Erciyes, Ağrı, Kaçkar and Süphan Mountains. Moreover, they are organizing cultural tours by courtesy of their registered guides.
For further information: www.middleearthtravel.com
Note: This article has been published in Peribacası Cappadocia Culture and Publicity Magazine, July 2007 issue. It is under protection of the copyrights of the magazine. No part of this article may be reproduced or utilized in any form or by electronic, mechanical or other means without prior permission from the owner. www.cappadociaexplorer.com