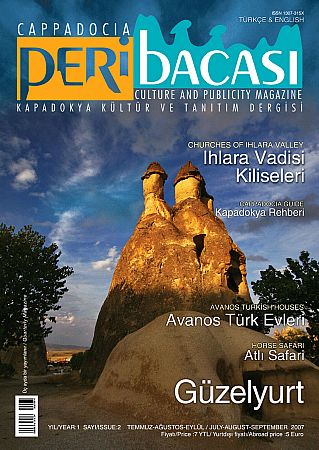 OUR FORGOTTEN CULTURE
NEVŞEHİR/NAR
Writer: Mustafa Kaya
July 2007
Located in Nevşehir's Nar district, the Kaya Bezirhane (Linseed oil house) is proof that Nar use to be the antique city Nisa (Nissa). Like many buildings in the Cappadocia region, this bezirhane is carved in rock. Even though it has been a while since the last time the bezirhane was in use, today it seems as if it hasn't stopped working at all. You feel like the baskets of linseed loaded on donkeys will be brought and the manager of the house will start giving orders. It is easy to imagine how the millstones were pulled by animal force, the seeds were pressed by tree logs and the linseed gathered in containers.
Production of linseed oil is an old industry. Before the arrival of electricity, linseed oil kindling was widely used in Anatolia and Cappadocia, especially in underground cities, as a way of illumination. Existence of many bezirhanes in the Cappadocia region leads us to believe that this production of linseed oil was for trading reasons. In the 19th century there were 15 bezirhanes in Mucur, 20 in Ürgüp and about 10 or 12 in Nar.
With the arrival of kerosene lamps as a way of lighting, in the beginning of 20th century, the need for linseed oil and bezirhanes started to diminish. Over the years, this industry started to fade away and lost its importance. The last owner of Nar bezirhane, Ömer Dündar, born in 1928, and his craftsman Kemal Başar, born in 1927, are still alive. This bezirhane, donated by the owner to Nar council, is a good choice for anyone who would like to visit something different than a church or an underground city in the area.
Note: This article has been published in Peribacası Cappadocia Culture and Publicity Magazine, July 2007 issue. It is under protection of the copyrights of the magazine. No part of this article may be reproduced or utilized in any form or by electronic, mechanical or other means without prior permission from the owner. www.cappadociaexplorer.com