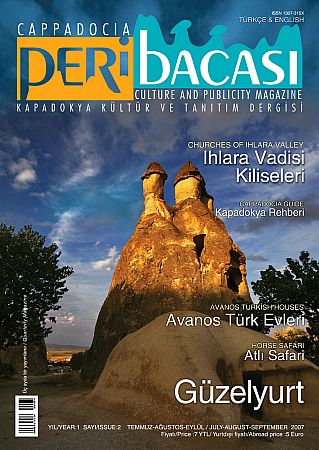 Writer: Yavuz İşçen
July 2007
Archaeological and etymological studies show that the Turks emigrated to Anatolia mainly following the Malazgirt War in 1071. The Turks who came to Anatolia had a mainly sedentary life style and, while they were settling in Anatolia, started to combine the architectural traditions of Middle Asia with the architectural traditions of this new geography. Over hundreds of years, this cultural interaction created a new style which was doubtless influenced by all the Anatolian cultures, from Neolithic to Byzantine and Muslim. The concept of a "Turkish House" is the product of this synthesis. For Turks, a dwelling is not just a structure for sheltering, but also a medium that satisfies the cultural and emotional needs of human beings as well as improving their sense of identity.
The characteristics of Turkish houses
Turkish houses usually have a simple exterior look without many decorations. On the outside can be found tall and narrow windows, along with wide eaves and bay windows. The entry from the street, via a large gate, usually leads to a courtyard surrounded by high walls. The courtyard is where daily chores are carried out. The houses are usually two and sometimes three storeys high. The ground floor is used as a storeroom, a cellar and a barn. The living quarters are on the upper floors which can be reached by wooden stairs.
The upper floors contain a common living space called 'sofa' which all the rooms in the house open from. Each room is planned for a couple to live. They are large double bedrooms with built in cupboards, ottomans, bathtubs in cupboards and fireplaces. All this structuring can be regarded as an extension of Turkish nomadic tent culture. Architectural decorations, especially wooden carvings on the ceilings, can often be seen in rooms and sofas. The Turkish houses are generally made out of stone and brick (made with mixing hay and mud), or sometimes made completely of wood. Although the structure of these houses varies according to their geographical location and social status, they still maintain their common features. The difference is mostly seen in the number of the rooms and the internal decoration.
Avanos houses during and after Ottoman Empire
At the height of the Ottoman Empire, Avanos was a small village with only 56 houses in 1750. However after 1800, and especially 1850, the number of Turkish houses built increased sharply. According to a document dated 1900, Avanos had grown to become a town incorporating 808 houses. From this we can say that the Avanos houses have about 150 years of history. Today, about 250 old houses remain in the old quarters of Avanos such as Bayır, Alaaddin, Orta and Yukarı. In the Turkish houses of Avanos, the main structural material was usually stone carved with decorations which were generally geometrical and plant motifs. Wood was usually used for ceilings, cupboards, doors and windows. Unfortunately, today most of these houses are in ruins as a result of natural and human destruction and only 50-60 of them remain in good condition or with little damage. Some of these houses with characteristic features are; Doktor Hacı Nuri Bey Mansion, Tevfik Körükçü Mansion, Ahmet Benzer House, Mustafa Erdil House and Hikmet Çingi House.
Note: This article has been published in Peribacası Cappadocia Culture and Publicity Magazine, July 2007 issue. It is under protection of the copyrights of the magazine. No part of this article may be reproduced or utilized in any form or by electronic, mechanical or other means without prior permission from the owner. www.cappadociaexplorer.com