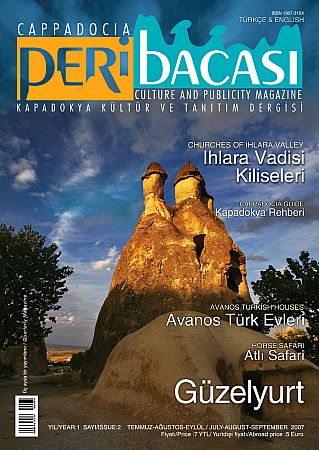 DOLLS THAT PERPETUATE THE CULTURE
Writer: Ayça Olcaytu İşçen
July 2007
Cappadocia Doll Museum is being exhibited in a restored old Greek Mansion in Mustafapaşa (Sinasos). Here is the story of Sibel Radiye Gül who is a doll craftsman.
Sibel Radiye Gül's interest in rag dolls dates back to the dolls that her mother made for her. After she got married she had begun to make these rag dolls for her children. She decided to learn the details of this work when she began to enjoy what she produced and she attended a course for three months. Later on, she opened an exhibition in a school which was built by the association that she has worked for. This exhibition she opened in 1987 attracted attention so she opened it again in many schools. Thus, making dolls became a purpose for her, rather than being a hobby. She created her first thematic exhibition with 35 compositions in which she was inspired by Nasreddin Hodja anecdotes. This exhibition, opened in Ankara Turkish-American Association in 1996, lasted for a month upon great interest of scientists, artists and the other people.
Following years, Gül made dolls in many subjects from Dede Korkut stories, to Ottoman tradesmen and Sultans. Today she has about a thousand of dolls. Making dolls is a different area of specialization. You need to know history and folklore. Also, you have to follow a hard method in every step in order to provide authenticity in skeletons, mimics and costumes. You should be ready for a mad search of fabric that you will use for a costume.
Cappadocia Doll Museum
Science, history and culture richness of Cappadocia are among her major reasons for choosing Cappadocia and Mustafapaşa in order to open a museum. Moreover, she loves Cappadocia and Mustafapaşa very much that she has been living here since 2001. Besides the beauties of houses and nature, she thinks that residents are open to share. She tells that every single corner is worth of exploring and she's happy to live here.
The museum, opened in 2006, was visited by too many people. About 150 hand-made dolls are exhibited in the museum. Gül changes the dolls with different ones every month because of limited capacity of the museum. For this reason it is not enough to visit museum once. It will be possible to exhibit much more dolls, if the new exhibition project in Cappadocia comes true.
Four rooms of the house in which museum was founded, serves as guesthouse. Gül says that especially visitors from other countries find here very interesting, and she is very happy to meet different people by courtesy of the museum.
For further information: www.kapadokyabebekmuzesi.com
Note: This article has been published in Peribacası Cappadocia Culture and Publicity Magazine, July 2007 issue. It is under protection of the copyrights of the magazine. No part of this article may be reproduced or utilized in any form or by electronic, mechanical or other means without prior permission from the owner. www.cappadociaexplorer.com